Welcome
Rosebank Press has published trade paperback and hardcover (October 2009) versions of the non-fiction memoir Cash on Delivery: CIA Special Operations During the Secret War in Laos.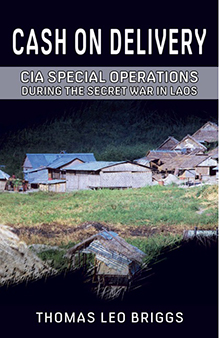 This unique work gives the reader intimate details, never before seen in print, of CIA special operations during the secret war in Laos. Read about capturing North Vietnamese Army soldiers behind enemy lines, uncovering deep penetration spies, intercepting important enemy radio messages, recruiting enemy soldiers to spy on their comrades, guiding U.S. bombers to destroy enemy tank parks and ammunition dumps and collecting information about enemy intentions before battles occur. No punches are pulled, some operations were less than expected and some were spectacularly successful. The CIA does some things very well and where it needs to improve the author provides suggestions for change. Tactics being used today in Iraq and Afghanistan had already been used in Laos over thirty-five years ago. Here are lessons to be learned and applied to today's anti-terrorist operations.
Read more about "Cash on Delivery" by clicking on Books and Excerpts in the panel on the left side of this page.
Video Book Trailer on YouTube
http://www.youtube.com/watch?v=jHOkR2Hs4Ak