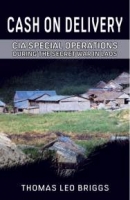 Cash on Delivery: CIA Special Operations During the Secret War in Laos
ORDER TODAY!

PAPERBACK

ISBN: 978-0-9841059-2-2
Price: $18.95

HARD COVER

ISBN: 978-0-9841059-4-6
Price: $28.95
TO ORDER A BOOK SIGNED BY THE AUTHOR
Please use "Contact Us" to send a request for a signed copy. Unless you indicate otherwise the book will be signed with the date and the author's signature.
If you would like the book inscribed to yourself, or someone else, please include the exact spelling of the name, otherwise the the inscription will only include the date and the author's signature.
We do not accept American Express.

Book Return Policy
Defective materials will be replaced promptly if defects are reported within 30 days of receipt and returned. No returns accepted after the 30 days. No credit will be issued.
Refund of books can be requested within 30 days of purchase. Books must be returned in salable condition (undamaged, unmarked and in original condition).
Return authorization must be requested by email at returns@rosebankpress.com. Postal address for returns will be supplied with the return authorization.
A 15% restocking fee will be applied to all returns.
Original shipping charges are not refundable.
Returns must be accompanied with a copy of the original invoice, contact name, phone number and email address.
Refunds are issued within 30 days of receiving the return in salable condition.

Privacy Policy
We do not give, share, sell, rent of transfer any personal information to a third party, unless we have your consent. However, certain information collected on this web site may be subject to required disclosure pursuant to the laws of the State of Maryland or the United States of America.